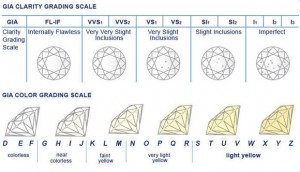 PEOPLE ARE BEING RIPPED OFF WHEN BUYING DIAMONDS. 
Would you hand over $5000 to buy a car without an inspection.
Jewellery is the same! Just because they are a recognised name in the Jewellery industry does not mean they are selling high quality diamonds all the time.
TDW means total diamond weight. Small diamonds adding up to 1 carat ARE NOT AS VALUABLE as a single 1 carat diamond.
COLOUR & CLARITY in larger diamonds is IMPORTANT.  
The grading scale may help you.  Do a little research & know the cut, carat, colour & clarity. Once you know these then you will find out if it really is a good deal. Every one has a budget but knowing what you are looking for is a benefit when looking for a diamond.  If it is a little confusing come into Cash Inn Revesby & we will be happy to answer your questions.